fueled by
tradition
Let's give a little thanks for all the floats and entertainers in America's Thanksgiving Parade.
Let's give a little thanks for all the floats and entertainers in America's Thanksgiving Parade.
For more than 90 years, hundreds of thousands of people bundle up and line the streets of Detroit every Thanksgiving for an amazing holiday tradition. America's Thanksgiving Parade® presented by Art Van is a 3-mile-long extravaganza featuring ten marching bands, six enormous balloons, incredible dance troupes, costume marchers in giant papier-mâché heads, equestrian units and more than 2,000 volunteers and performers. And, of course, what parade of this magnitude would be complete without floats? There are 20 beautiful and intricately crafted floats that take to the streets each year — including the float that carries the jolly, bearded guest of honor. And they're made almost entirely by hand using a mix of many petroleum-based materials in a magical warehouse tucked away in Detroit.
It's tradition. It's family. It's memories of my father bringing me to the parade.
THE PARADE COMPANY
The Michigan Thanksgiving Parade Foundation was founded in 1982 to keep the Detroit holiday parade tradition rolling. Today, their base of operations, which is called The Parade Company, is housed in a 218,000 square foot facility and brings together more than 1,500 volunteers with a full-time, year-round staff to make sure one of Detroit's most cherished events goes off without a hitch.
"It's tradition. It's family. It's memories of my father bringing me to the parade," says Kari Shepley, sponsorship activation and project manager of The Parade Company. "It's bringing people together and lighting up our community."
With extensive world-wide coverage on television and radio, this annual event offers a unique exposure to Detroit, so they want to make sure that the city is cast in the most festive light possible. And their hard work has certainly paid off — America's Thanksgiving Parade® presented by Art Van was recently recognized as the "Best Holiday Parade in America" by USA Today.
THE FLOATS
Each year, The Parade Company constructs between four and seven new feature floats for the parade. It all starts with a detailed sketch from legendary concept artist, Jimmie Thompson, who drew up his 100th float for the parade this year. His remarkable designs include huge sculpted and painted foam components of people, local landmarks and holiday themes. Some even feature a system of pulleys and wires to move and animate the characters as the floats drive down the road.
Once the sketch is approved, it's on to construction. There are a couple different ways to move a float down the parade route. While some are towed conventionally by a truck, others have a vehicle built into the float itself. A platform to support the float is built around the chassis of a truck. Then the driver actually sits inside the float and navigates the parade route using a video screen.
It takes an entire team of sculptors, painters and engineers to bring all that foam to life. In fact, each year The Parade Company orders thousands of pounds of Styrofoam to create these works of art. The individual features are built around a rough wire frame, sculpted to shape and then painted on-site. They are then assembled to the float platform — the floats can reach lengths up to 135 feet and are in multiple pieces that are hitched together, so the artists must take care to make sure the components line up seamlessly.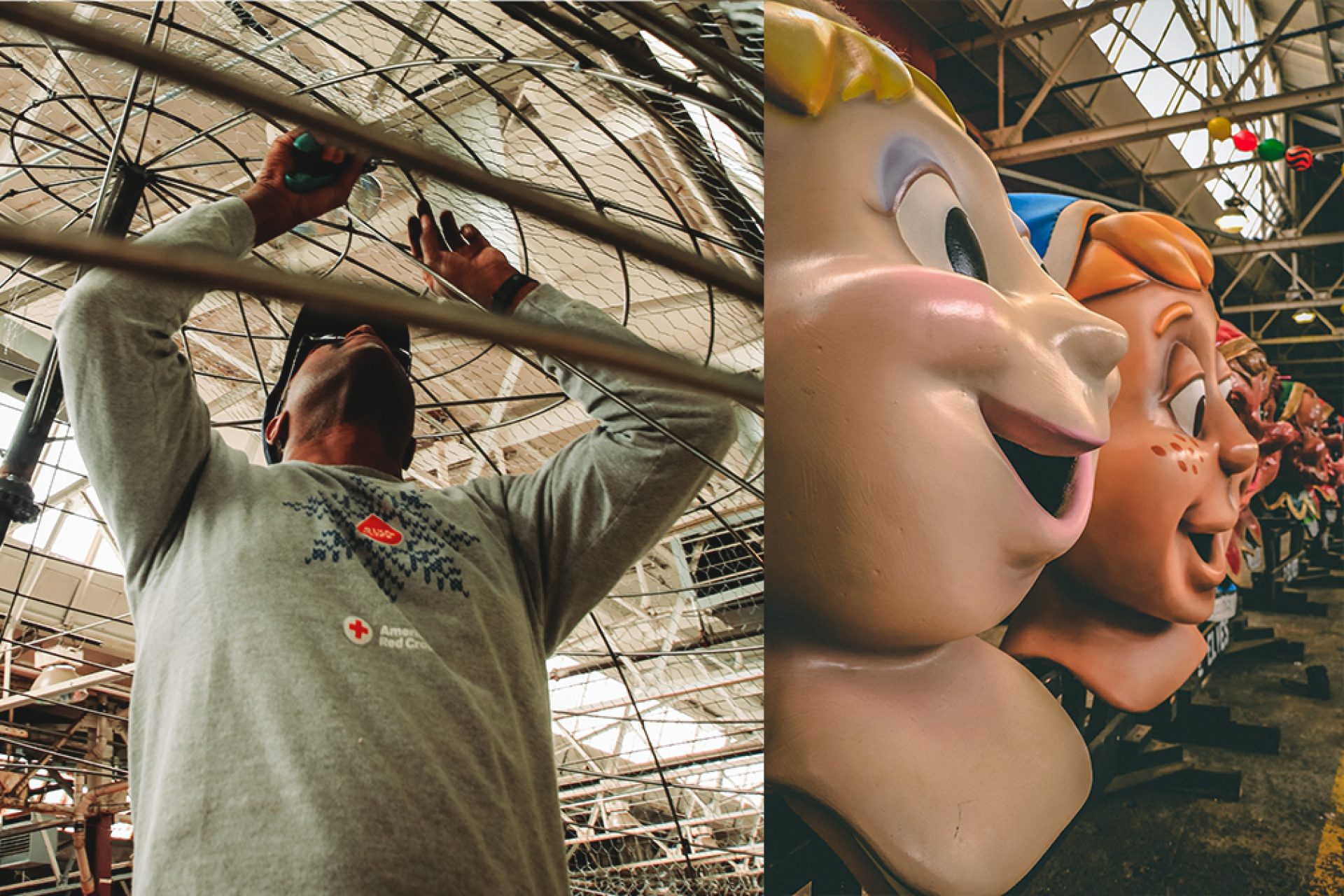 THE BIG HEAD CORPS
Another unique parade day tradition is Big Head Corps. As curators of the world's largest papier-mâché head collection, Big Head Corps is a group of young Detroit professionals devoted to the preservation of these treasured vintage works of art. These striking oversized heads have roots dating back to the 1940s when they were acquired from artists in Viareggio, Italy. At the end of the Italian parade, the heads were typically burned, but Big Head Corps is devoted to restoring them and carrying on the legacy.
"This year, there will be about 110 Big Heads in the parade," says Dory Sherrod, the Director of Big Head Corps.
These new and vintage heads are meticulously crafted and repaired in The Parade Company studio, and portray animals, recognizable characters and more than a few famous Detroiters.
"There are probably about 30 or so heads created in our parade studio here in Detroit," says Dory Sherrod, director of Big Head Corps. "Every year it grows by one head. You know, we make one new head a year."
While mostly being made from newspaper in the traditional papier-mâché method, the Big Heads are crafted and repaired with foam, latex, plastic and other synthetic materials to ensure durability over the 3-mile parade route and a comfortable fit for the person inside.
THE PARADE 2019
The 93rd edition of America's Thanksgiving Parade® presented by Art Van will take to the Detroit streets on November 28.
"It's wild to see people from all walks of life come down to one place for a day, just to celebrate," Dory says. "It warms my heart. And it's all a labor of love. Everything we do is because we love the city of Detroit."
Visit theparade.org to learn how you can watch this spectacular holiday tradition from wherever you're enjoying the holiday.
#FueledBycrystal foliage

11/7/2019

Preserve some of nature's most beautiful artwork using salt, pipe cleaners,…

#FueledByan appetite for adventure

#FueledByan appetite for adventure

1/30/2019

Watch this woman cook a gourmet meal while snowmobiling!

#FueledByfueled by the feast

#FueledByfueled by the feast

11/19/2018

Let's fire up the grill —it's time to talk turkey!

#FueledByfueled by tradition

#FueledByfueled by tradition

12/13/2017

Chef Jared Bobkin tells the story of the "Hanukah Miracle" and teaches us how to…

#FueledByIce Lantern

11/18/2019

Get into the holiday spirit with festive ice lanterns, fit for any occasion.

#FueledByfueled by light

12/22/2017

Celebrating 95 Years of the National Christmas Tree.